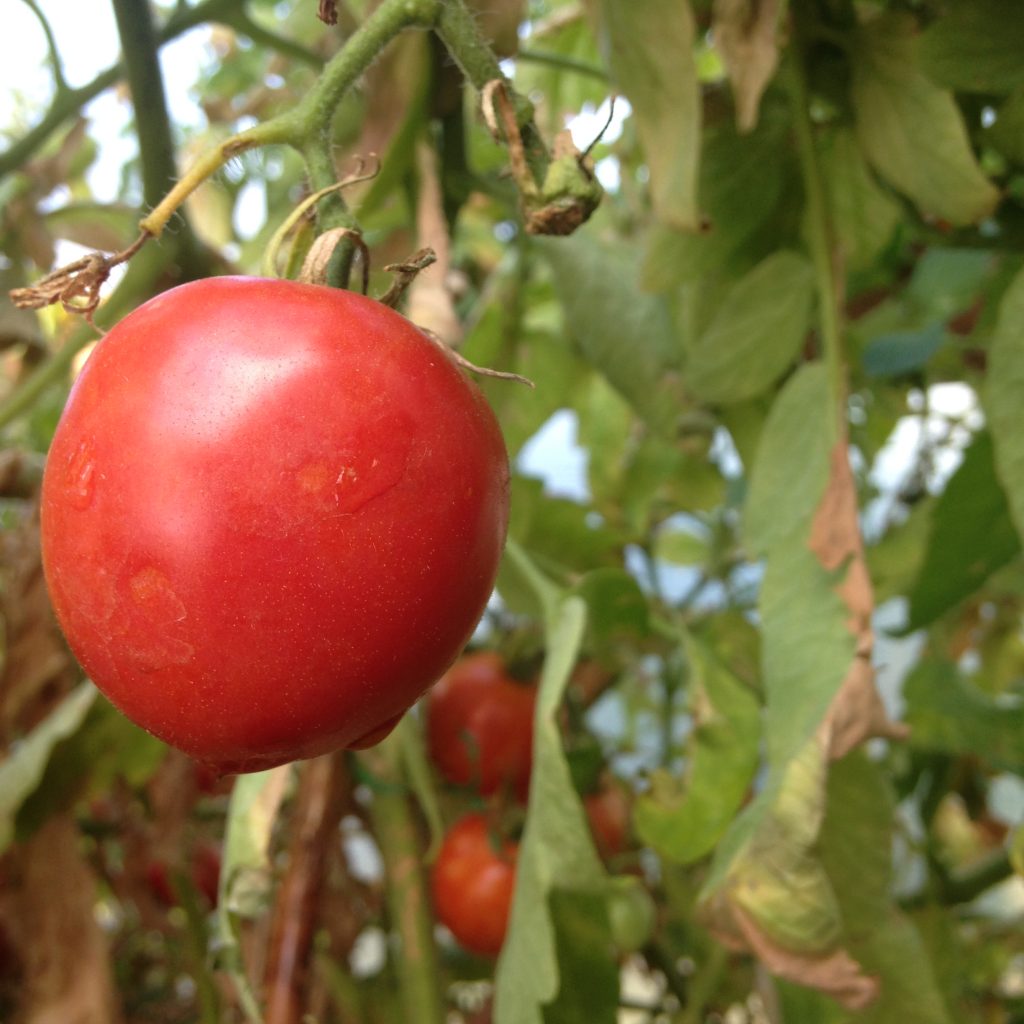 One of my first gardens, tucked in a sunny spot of a shady backyard in Seattle, had a tomato. Patiently I waited for this first fruit to change colors…. willing myself to not pick it until it was the bloodiest of reds. When the fateful moment arrived, my tomato had been selected by another creature who hid their thievery from me by nibbling on the back hidden side.
Oh, the disappointment.
There have also been the encouraging carrots with fat orange hats above ground that you finally pull only to realize they have grown an incredible… inch. And don't even get me started about tomatillos! Dripping with bulbous green lanterns as you stand with basket in hand hours before the first frost is to arrive and there is absolutely no significant fruit inside those papery promises.
Sigh.
All that work, digging, mending, sowing, tending only to be diminished when the harvest wasn't exactly what you anticipated when you first planted that seed many months ago. Well, now there is a metaphor I cannot let slide by. Much of my life has been work, hit the grindstone, work, plant a seed, more work, sweat and tears only to see the fruit is odd, misshapen, missing in action or quite a bit different than that original dream. How are you supposed to be grateful when you are also a tad disappointed? Or maybe the right word is… bewildered?
Because there is also purslane. Technically most gardeners consider it a weed, but don't tell that to the up and coming hot chefs. Purslane takes over many a garden including my own, but harvested, cleaned up and bundled with golden string it became a hit at a recent farm stand. It is succulent in texture, with almost a lemony undertone. It is a superfood with rising popularity and it is being sold for several dollars more than the one buck I was asking for my wee bundles.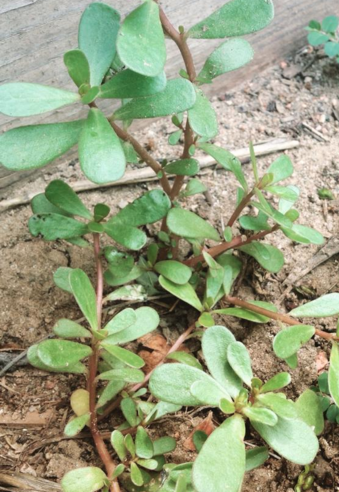 Talking up purslane's magic while selling them at the farm stand wasn't hard either. It is a micro green that can be cooked with eggs or it holds up nicely in salads. Stick it in a smoothie and it will thicken your drink into goodness. Or go Mexican with it. Call it verdalagos and create a beautiful traditional dish by the same name.
Despite any disappointments or confusions at harvest time, look closely as your garden (or maybe your life?) probably has other plans for you if you dare to keep present, keep looking and more importantly keep sowing. If you don't plan any seeds, you will never be in the garden seeking to harvest.
A few years ago, we brought seeds back from Arizona. These sacred desert covenants seemed perfect for our new Rocky Mountain dry climate, and we figured we could simply water them less. All of our attempts to emulate Tucson were foiled by a rather wet and cool season. This fortunately tamed any drought threats to our state so in the end we were more grateful than not, but it was sad to feel our seeds were wasted. We had invested so much love into the beans, chiles and squash we were attempting.  
One of the plants we grew is called Ha:l from the Tohono O'dom tribe of the Sonoran desert. We were thrilled when it reached across our yard, twirling itself up to our porch and then all the way back to our driveway. It was a monstrous mammoth, taking over our garden covered in bright flowers and itty-bitty fruits full of promise. And then, one by one the fruits would make it to about two inches only to rot and die off. We shrugged, trimmed it back and figured Colorado was just too moist for this precious arid beauty.
Fast forward two years and we now have a 'squash' plant entangling itself throughout the yellow straight neck and cocozelle zucchini. A few weeks ago the fruit formed, round and glorious, neither zucchini nor pumpkin, but suspiciously reminiscent of those little cuties that were doomed back in 2014.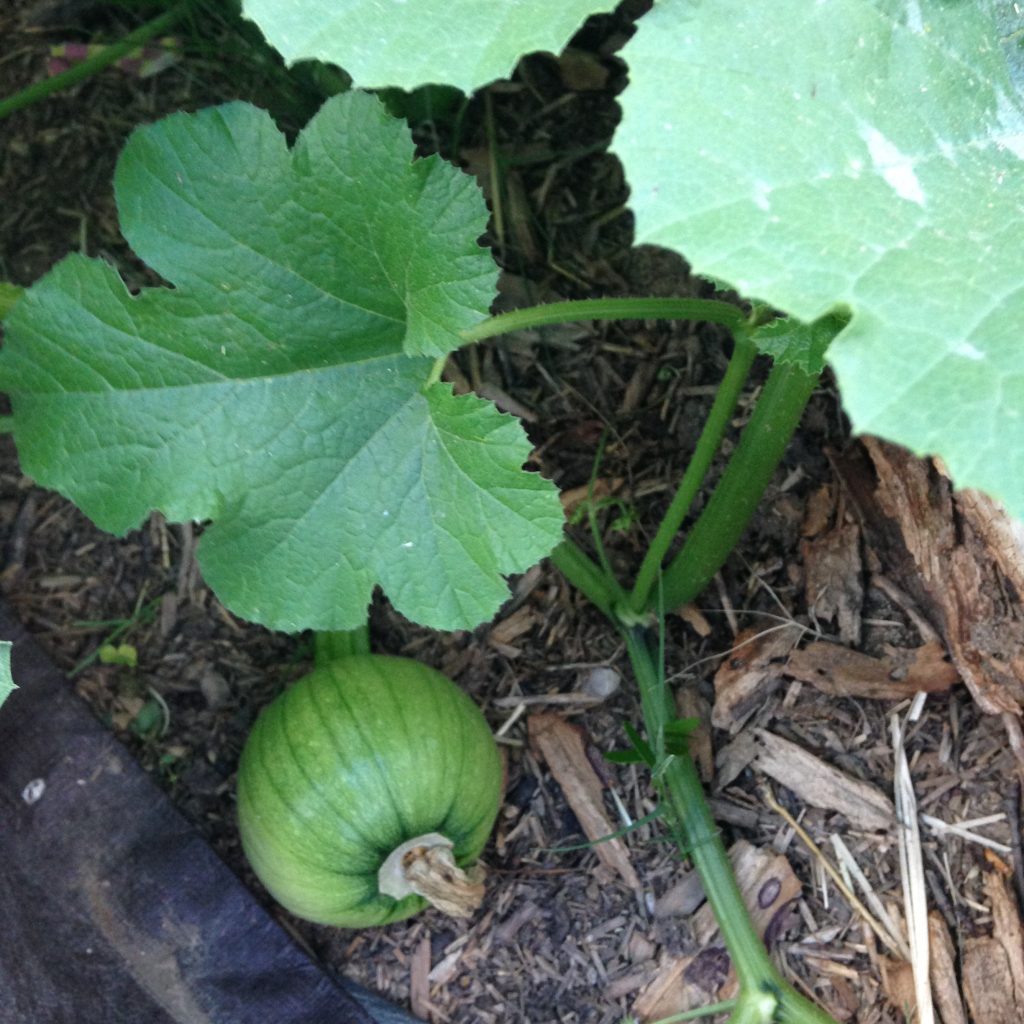 I sent our dear Tucson farming buddies a picture of the fruit. He responded there is a good chance it was indeed the Ha:l. He also mentioned that the leaves when mature get white splotches. Bingo! This beauty of a plant in fact has almost white stain glass throughout its leaves. Finally, I sliced up a fruit and tasted what I remembered in Tucson, texture and disposition of zucchini, but with a slight sweetness that is hard to miss. I plan to harvest the smallest fruits for a time, but as the Tohono O'dom do, I plan to leave some fruits for a late harvest once the shell has hardened and it has become pumpkin-like. The two-for-one delight of this plant is what has me beyond grateful to receive this volunteer in our garden.
If you are new to gardening please take heart, we are newbies as well, but we keep coming back to the soil with increasing hope. We had no intentions to grow Ha:l this year and quite frankly after the confusion two years ago and lack of easy access to their seeds, we weren't planning to try again, but the garden is certainly a place where tiny miracles seem to come and go. As long as you are able to relax into the idea that planting a dream is risky business with the timeline and outcome not yours to dictate. Keep the soil rich, tend, mend, and allow your wildest hopes to slowly take root as something glorious will eventually come to fruition.