Figuring out what to eat for you (and you alone!) was easy, once upon a time:
Belly growls.
Craving comes.
Open fridge.
Take out food.
Cook.
Eat.
But figuring out what's for dinner for your whole family now looks more like this:
Child complains of hunger. Or is it just boredom, my goodness he ate an hour ago!?
You look at the time: three hours until dinner time.
Open fridge. Where did the food go? That's right, my pre-teen son's friends stopped by.
Review food. It doesn't look pretty. At least there is cheese.
Remember that your Aunt may stop by for dinner, but she can't have dairy.
Decide to go to the store.
Everything looks good, but you are too exhausted to make another decision and you simply leave with ice cream.
Go home. Order four kinds of pizza, because every family member has a different idea about what makes a good pizza… including the preschooler who insists on no sauce! And then of course, no cheese for your Aunt.
Your days are busy. At the end of the day you feel like you've already made all of the decisions you are mentally capable of managing. Dinner is supposed to be a time to chill out, relax and love up your family through good food. But, why does it so often suck?
Why do you often end up ordering in? Or eating out? Why does each family member have so many likes and dislikes that finding a recipe loved by all seems impossible?
And on top of all of it, you just found out you have food intolerances. But since half of them are foods your family actually eats you find yourself too overwhelmed to avoid them.
It can be easier.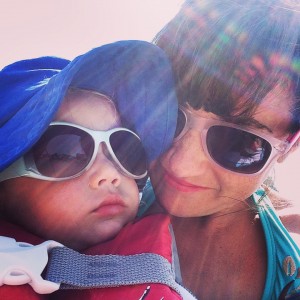 Before starting Lilly's Table and prior to becoming a Mom, I worked as a Personal Chef with families in California and then in Colorado to create meals that satisfied every taste bud. It's a tricky balance to figure out what will nourish and delight an entire family. Despite that, developing recipes for my personal chef clients was one of my favorite tasks and I got pretty darn good at it, if I do say so myself.
These days, I meal plan weekly while bumping into the challenges of balancing out my own family's needs but I have started practicing methods and strategies that bring the best, seasonal food to our table on a daily basis.
"Lilly's Table is an amazing website! It has made my meal planning much less hectic. The best part is that the recipes are healthy and not complicated!"

Chelsea Beck, mama of two children
Eating dinner as a family can be a reprieve from the daily grind as you relax together eating foods that you all appreciate. Having a meal plan created with you, your partner, and your children in mind will allow you to really bring  a boost of love to every dinner table.
If you are about to embark on a new style of eating, if you are working with a nutritionist, or you are starting an elimination diet while needing your family to eat relatively 'normal'… I can help you. We will look at your challenges together whether it is breakfast, lunch, dinner, fussy eaters, picky partners, or just balancing it all and you will soon be armed with seasonally inspired recipes that can be smoothly incorporated into your lifestyle.
Let me build your dream meal plan for you! With 20 seasonal recipes you can use and reuse throughout the season, enjoying your own Personalized Meal Plan is as easy as 1-2-3!
 You will receive an interview to fill out, including questions for your children, based on all of your likes, dislikes, dietary needs and food challenges to create a beautiful meal routine.
After I have reviewed your responses, we will set up a time to meet for an initial 30-minute call where I can dive deeper into your food story and identify your true needs as a family.
Finally, you will receive a selection of recipes based on our assessment together. Then we will schedule our second call together where we will make sure that the plan is exactly what you need with actionable steps. I will also be available to you via email for up to three months as questions come up during your meal planning journey.
"Fantastic resource, inspiring ideas; gourmet but simplified recipes." – Leslie Weinstein, Lakewood, CO, mama of three children

"Lilly's Table has been a game changer for me! As a busy mama of two, I love to cook but have little time to spend meal planning. Lilly's Table makes it fun and easy to cook healthy meals for my family. We are quickly finding many new family favorite meals, all thanks to Lilly's Table!" -Lily Jones, Founder of Curiosity Packs
Imagine looking forward to dinner time! It truly can be a memorable, nourishing time of each day. From bringing the ingredients together to savoring real food made specifically for your family, having a strategy in place that works for you will set the stage for this time together to be joyful and loving.
At only $199, you will be set up with recipes that can be rotated throughout the upcoming season.
Wait a minute… it gets better! What about an entire year of support? With the Four Seasons Meal Planning Bundle you will get a new meal plan every 3 months customized for your family and the season. In addition, there will be on going email support throughout the year and extra 30-minute support phone calls.
Click here to begin filling out your Meal Plan Interview. After I receive your responses I will contact you within 48 hours to set up our phone chat.
Do not delay as your spot could be quickly taken! Let's get rolling! I cannot wait to create a meal plan just for you and your family!

"Lilly's Table has excellent recipes which are easy to follow, making meal planning and preparing much more convenient." – Sandy Genter

$199.00 Add to cart