Chef Lilly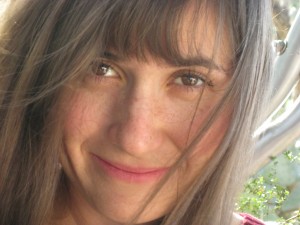 Growing up her parent's Eastern Washington garden was a playground and wonderland for the beautiful meals that arrived throughout the year. Becoming a vegetarian in high school led her to the kitchen. The early college years sent her briefly away into a world of cafeterias & processed food products. Towards the end of her four year stint at the University of Washington she found her way back to the stove as she started to cater events for fun including her own graduation party.
In 2001, she moved to San Luis Obispo to be closer to family. So close in fact that she moved in with them and started to cook out of their CSA (community supported agriculture) box for her sister, brother-in-law and four nieces & nephews bringing farm fresh food and a balance of food allergies, picky eaters and making vegetarian meals tasty for meat eaters.
In 2004, she went after her dreams of cooking for others and started Bella Cuisine Personal Chef Service. She also met a fabulous guy, Xerxes, who eventually convinced her to leave her  delightful California clients and family, to follow him to the glorious mountains of Colorado. Before starting their new life together, they took a four month detour to South America where they soaked in the delights of Argentina's wines, parilla barbeques and mountains, Chile's yoga classes and beaches, Bolivia's salt plains and cooking classes. Refreshed, she started Bella Cuisine again to serve the Denver & Boulder Metro areas.
During this time, she married Xerxes and soon after envisioned a meal planning service that would empower everyone to eat beautiful seasonal cuisine. She sought out the genius of Grant Blakeman to create and design Lilly's Table. As the two got to work developing the service, Lilly & Xerxes decided to start a family and had Juliette in May 2010. A few months later the first weekly meal plan for Lilly's Table rolled out and has been inspiring others to join CSA's, shop at their Farmer's Markets, eat out of their own gardens and just cook for themselves as often as possible.
Welcome to Chef Lilly's blog!