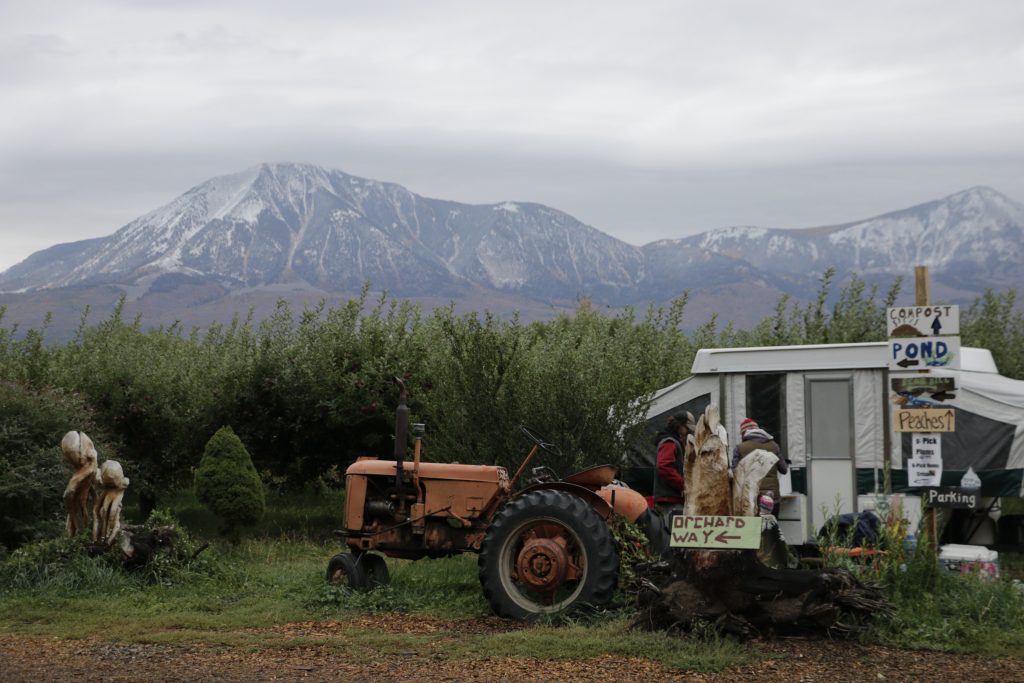 When we first chatted with our neighbors about heading to the Mountain Harvest Festival, it all sounded a bit too good to be true. Camping in an orchard. A local food restaurant just a few yards away. U-pick everything. Farm tours around town. Wine tasting. Of course, bringing two kiddos along who could care less about being in a car for 4+ hours to the point of making it a bit torturous for the parents managed to help curb my enthusiasm.
As I packed with my typical anxiety about all the uncertainty and unknowns, I found myself entertaining a twinge of delight that maybe this was indeed a dream trip. It was easy enough to push aside this twinkle of a fantasy as I kept chopping, cooking, folding, sorting and packing. But, dare I say, those daydreams came true as I felt myself relax into all of it.
Of course, it wasn't without a bit of drama from our children on the drive up. Although, for a time they were almost as content as we were to watch the aspens stretch their flannel shades over the jagged mountain sides. As we gained altitude, the pines became lightly frosted with the early snow storm while the aspen's golden leaves seemed to refuse this icy coating as they glistened in the high sun.
Eventually, we descended into Paonia close to dusk, which brought initial confusion as our cell service dropped out of existence not to return beyond brief hiccups that would send a flood of messages my way periodically throughout our weekend. Navigation soon became a test of relying on a European stranger and our own intuitive guesses. As we gave up and decided to turn into that market area just ahead in order to u-turn back into town, we realized this was in fact our destination.
We wrapped ourselves around to the other side of the restaurant and arrived at our friend's popup tent perched in the the picturesque u-pick orchard. Our children immediately reacquainted with their little buddies and took over the popup while us parents unpacked, set up and prepared dinner with the first pours of Hard Apple Cider in our hands.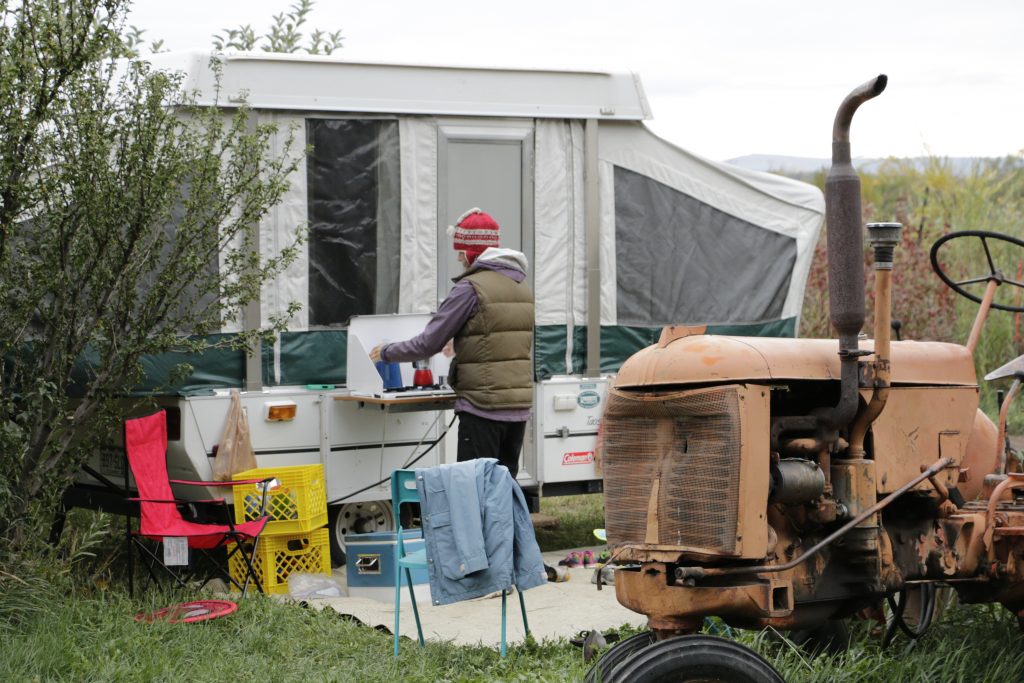 The weekend proved to be an exploration of life on the farm with our little "home" in the orchard, but also as we explored the local area through farm tours. We woke to a rooster's cock-a-doodle-doo and our toddler son's response cry of cock-a-la-la-oo. We jumped in the car after a quick local bacon + egg breakfast just as a rain storm hit, making it a muddy, yet gleeful adventure. The first stop was another orchard where we stocked up on 40 pounds of deeply discounted peaches, balsamic vinegar, wines including a cherry variety that reminded us of my dad's dry fruit wines as well as some mini white pumpkins and fantastically ugly gourds to entertain the kids.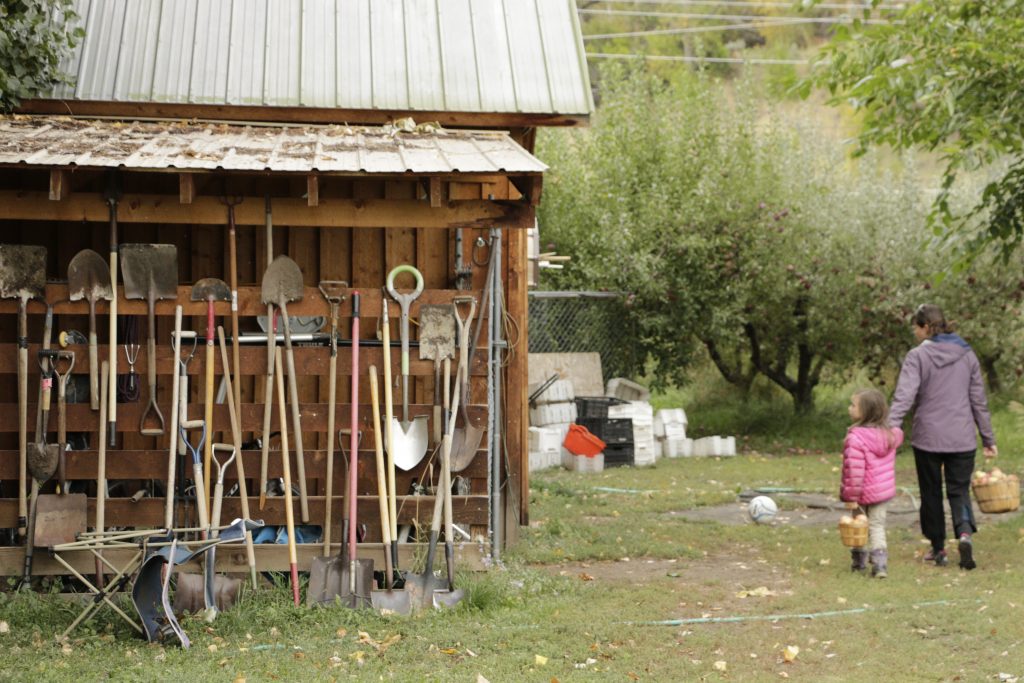 We winded our way up hills and down towards a valley to the next farm with a back-door bakery and a large brick oven that heats up to 700+ degrees to make all sorts of sour dough breads and treats. The views were exquisite, framed with snow kissed rocky mountains and the post-rain haze.
Soon after, we were in drier lands that outstretched at the base of the rockies as we headed through the southern part of Paonia to the Avalanche Cheese Company dairy where their goats, milking stations and story-book home were on display. Samples of the cheese and cured sausage were delightful. With little hesitation, Juliette and I decided on a Honey Lemon Cheve, Fennel Sausage, a brie-like cheese, and an aged cheddar.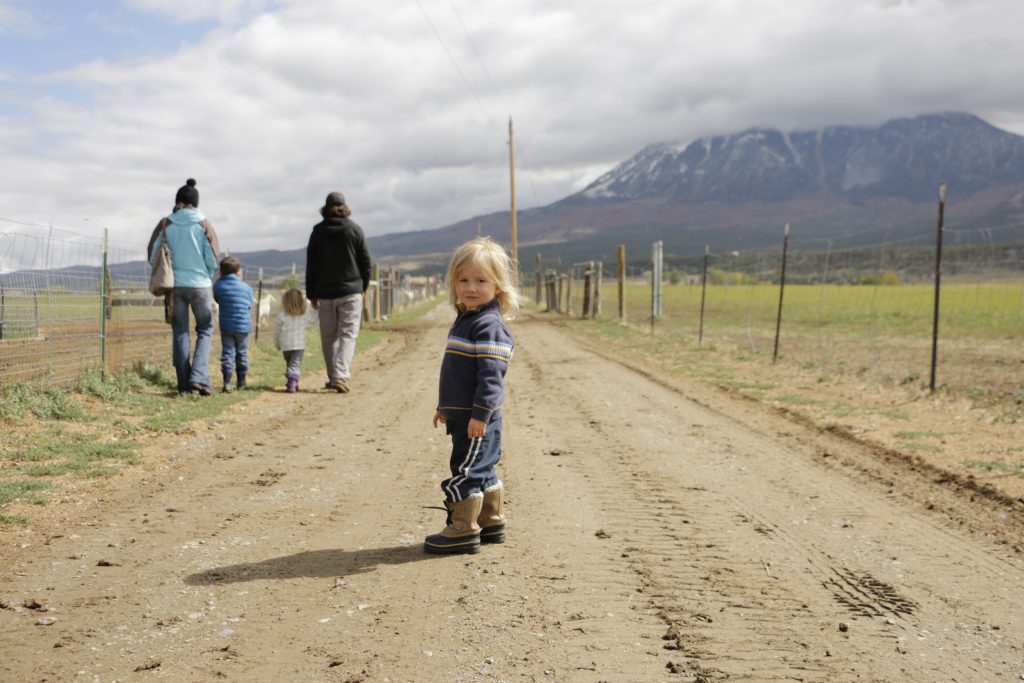 The next stop took us to the Living Farm which sounded like a farm petting zoo, but the two eldest children soon made it clear that they were done for now with farm tours as they each held up in their family car with their own versions of meltdown. A quick consensus amongst the adults sent us back to downtown Paonia where the main Festival including a Grape Stomp was held.
We grabbed some food, that unfortunately didn't reflect the true local nature of the rest of the region or our local food year, but it put everyone in better spirits to be able to play and enjoy the festival for another hour or so. By some miracle, we convinced the kids that us adults could go wine tasting, at least once. Tucked in their carseats, we wound our way up a mountain side to the Stone Cottage Winery. The kids colored and drank apple cider alongside us as we toasted and tasted the local wines. The other wine tasters gushed and complimented our shockingly content children. Meanwhile, Xerxes and I both fell for the Syrah and appropriately stocked up.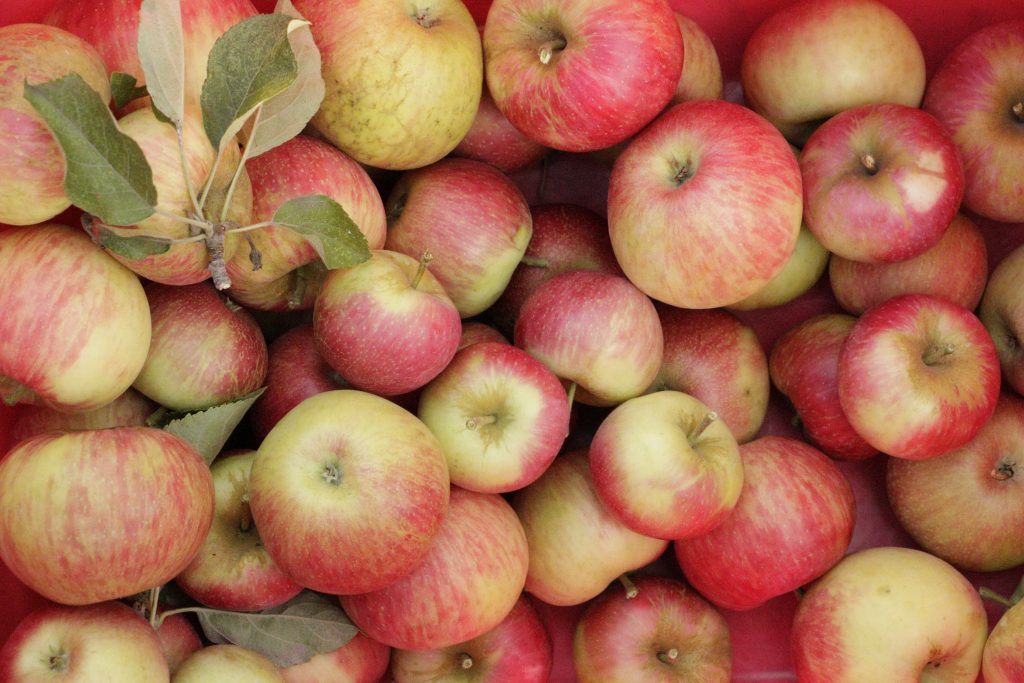 Coming back down the mountain we ended back at our Delicious Orchards campsite. It was clear we could no longer resist picking apples, so we ran through the trees with baskets and carefully selected close to 40 pounds. The branches were heavy and low with Honeycrisps so the kids were able to pick them with little effort and they had perfectly sized baskets to guarantee just enough for their little arms to carry.
Once our baskets were paid for we headed towards the bluegrass band and bought a local dinner of ribs, pulled pork, coleslaw, potato salad and candy-sweet ears of corn. While we waited for food and eventually ate, the older children swung from 50+ foot rope swings that passed them into the trees and then back towards our picnic table. That alone brought Juliette the sweetest joy and memories. Meanwhile, Zed giddily danced to the bluegrass, munched on corn and ran around silly.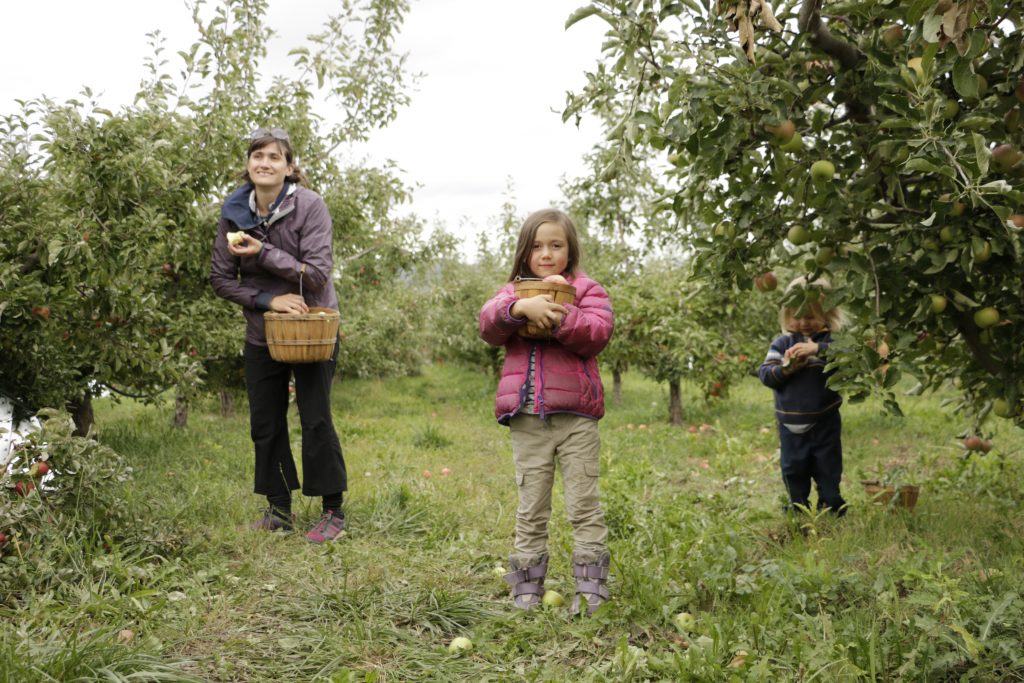 The night ended with the 'women and children' tucked in the heated popup by about 9pm exhausted. My head hit the pillow and I was done. In the distance, I could here the bluegrass band rolling again and I could smell the bonfire that was promised earlier. While I am sure that adventure would have brought even s'more smiles, wrapping my arms around my already satisfied children knowing they were getting even an extra hour of sleep was a precious gift.
The next morning, the kids were playing as early as possible and brunch at Big B's started midmorning with more rope swinging and a gentler musician serenading our breakfast burritos, French toast and fresh apple cider. We finished our trip by picking more apples, until we totaled close to 100 pounds including four varieties: Honeycrisp, Red Delicious, Jonathans, and Jonagolds. We are so excited about the possibilities for all of these treats!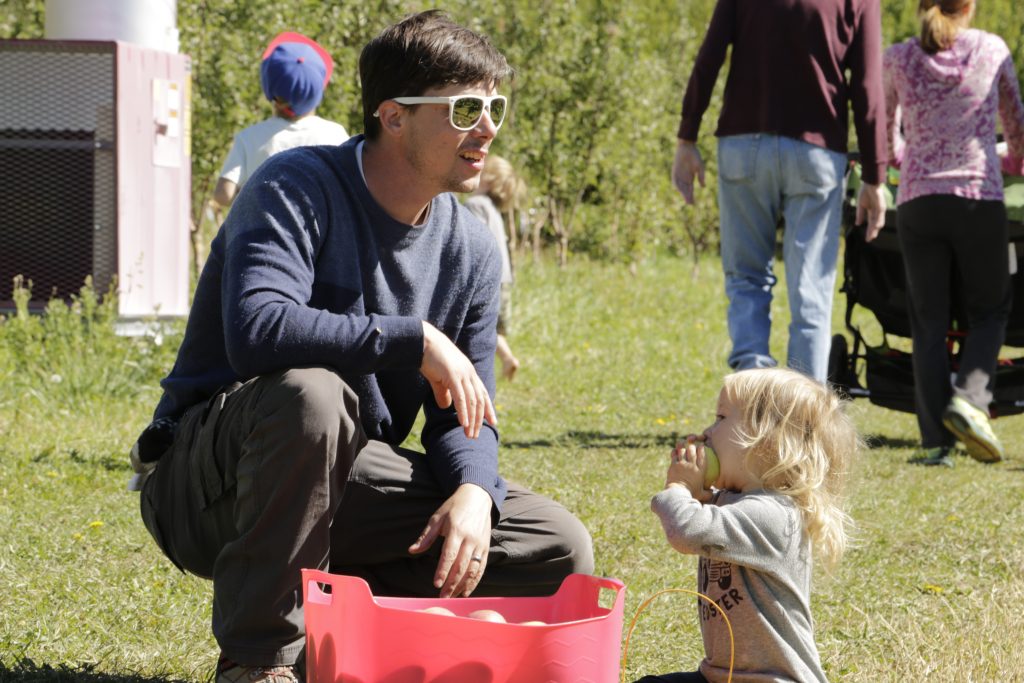 Heading back up the pass, the scene was its own celebration of autumn with the aspens' green leaves turning warm yet shockingly bright shades. Even though the drive back had a few too many moments that reminded me why traveling with small children is crazy intense and something worthy of avoiding, there were some beautiful times of reflection.
Curving through the winding mountains Juliette asked "Can we go again next year?" Our response came quickly and easily "Of course!" She went for clarification, "No! I mean can we go every single year?"
With my eyes on the changing scenery, I welcomed this invitation for a family tradition that I look forward to celebrating for many more years into the future.