The first month of our local food year was beautiful, trying and full of a few surprises as well. We have received so many questions about it so far that I am excited to share what felt great and what we are still working to improve. It should be worth noting that while I love to plan and write lists and figure out all the details in advance, this adventure has had some outlining, but it was more about diving in and seeing what might transpire.
At the start, we quickly realized we needed to gobble up the existing food in our kitchen even if it was lacking local origin. This was a bit of a godsend as the month was busy with two different camps that kept the kids and I driving around the metro area every day for a couple of weeks and because fruit and vegetables are not quite abundant yet. I really thought we would have finished all of this non-local food by now, but we are still nibbling away on a few things.
The month also felt rather 'built around meat'. I realize the Standard American Diet practically requires meat at nearly every meal, but our family's normal diet is a bit more on the semi-vegetarian side. Personally, while our delicious grass-fed beef and a handful of other options have been delightful, I plan to embrace more beans that I have been acquiring recently. Both for the sake of our tummies and our wallets.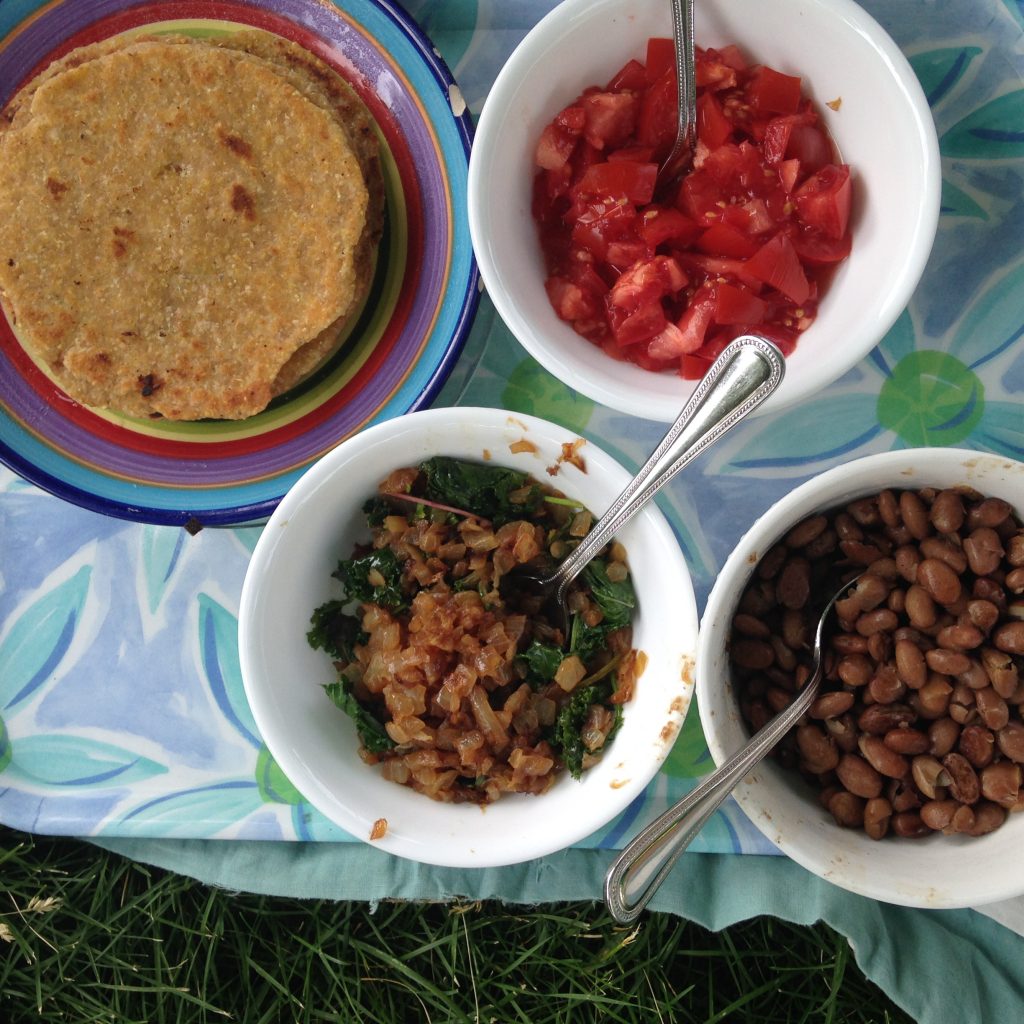 In many ways, I have felt strapped to the kitchen. I have a feeling this is no surprise to most of you. I hesitate to lay this out as a complaint, but seriously dining out once a week (or more!?) has been missed by both of us if only for the break from cooking and cleaning. Part of this is because I have felt seriously uncertainty about the food that is coming and going. I must humbly share that I have not been effectively meal planning. I feel a bit ashamed to admit this publicly, since I meal plan as a profession, but, the transition to all local has thrown off my game. July is leaving me a lot of hope that if I make one change, just one significant improvement, it is to focus on meal planning. For reals!
As much as we miss the break offered by dining out, we do NOT miss the food received from restaurants. We have enjoyed some incredibly satisfying, goofy smile producing, do a little food dance in celebration meals. In many ways this was a driving force of this whole year. To be forced into creative new meals and ways of eating. This has been the best part by far.
Some of our favorite meals, include:
Meatball Sliders
Grilled Asparagus + Garlic Scape Potato Salad
Whole Wheat Tortillas stuffed with beans + grilled veggies
Sourdough Waffles (OMG… where have these been our whole lives!?)
Veggie Packed Sloppy Joes (tasty, but so simple to make no wonder lunch ladies love these!)
Lentil + Beet Salad
Rhubarb Coffee Cake
The kids favorites:
Eggs in a Hole
Strawberry Steamers
Donut Muffins stuffed with Creme Fraiche + Grape Jelly
Peanut Butter + Honey Ice Cream
Mint Chocolate Chip Ice Cream
Pancakes 'in shapes'
Homemade Pickles (made by our visiting Tucson buddies!)
Cherries (not a meal, but their faces have become permanently stained, so worth noting their love)
We have also explored our food system in cool ways. On the second day of our Local Food Year, we drove to the Western Slope of Colorado. It made us reevaluate what we eat when we travel and I wrote about it here.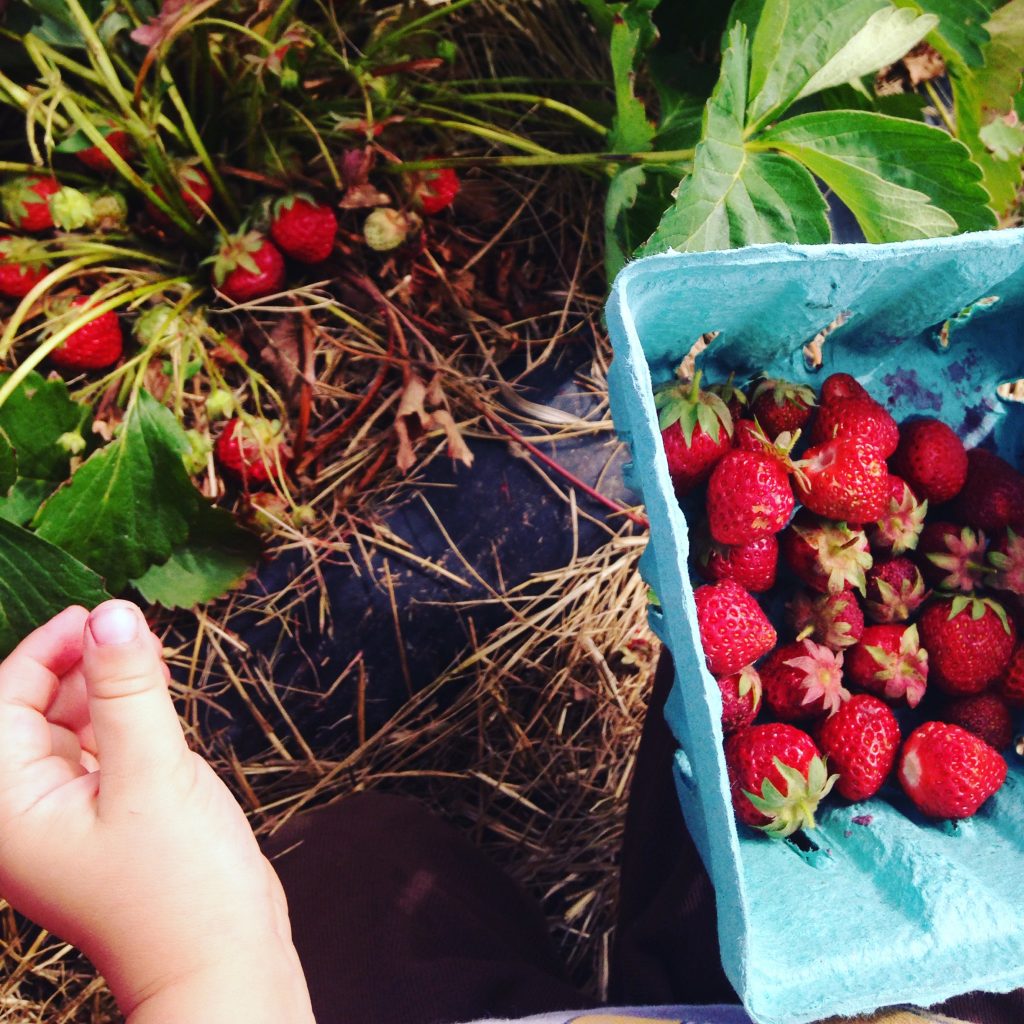 The kids and I also went berry picking twice. The first time came in the nick of time before our son's 3rd birthday. Strawberry is his favorite for pretty much anything and thank goodness his birthday was the day after the first strawberry picking day at the Berry Patch Farm. The cake was delightful, all-local and sweetened only with honey.
We had a couple of meals with friends this first month and what was so delightful was how they were eager to figure out this local food thing with us. Our first meal with friends they brought the most delicious meat from their Uncle's ranch that we grilled into burgers. Then dear friends were brave enough to have us over for dinner at their house where they served a gorgeous grilled Tri-Tip from Western Daughters, Fruition Cheese, a salad from their garden, tomatoes and we brought the Grilled Asparagus + Garlic Scape Potato Salad.
We also camped for about 24+ hours with our farming friends from Tucson who were visiting. They made homemade Colorado pickles and we collaborated on several meals including a Sausage Dinner made under a tarp in a heavy downpour, a scrumptious local Lentil + Potato Salad, a veggie hash with scrambled eggs for breakfast and a couple of lunches featuring local goodness and veggies to go on top of my Honey Whole Wheat Sourdough.
The garden was coming along quite nicely, we were excited about the possibilities and then we were hit hard by hail. We were not wiped out, but heartsick as we were excited to rely on our own produce. Fortunately, there are farms beyond our small area that were not damaged and we can continue to buy produce as needed. We are also starting to see some leaves that are giving us hope.
This is what we missed the most in our first month:
Xerxes: Convenience. Being able to buy food in a pinch.
Juliette: Sweet Cow (our favorite nearby ice cream shop)
Zed: Kombucha (This is confusing as we actually have been drinking it on occasion. 3-year olds are goofballs!)
Lilly: Eating out occasionally to take a cooking break.
What we most loved in June:
Xerxes: Sourdough Waffles and the delicious steaks + burgers
Juliette: Homemade Ice Creams
Zed: Homemade Ice creams and Yogurt Parfaits (see top photo).
Lilly: Whole Wheat Tortilla Tacos (although, I think I am going to make them sourdough soon) and the Grilled Asparagus + Garlic Scape Potato Salad
Things I am still figuring out and plan to work on in July:
snack plans for the kids
meal planning!
sourdough everything… well, if it is wheat based, but seriously those waffles made me want to sourdough everything up!
What questions do you have about our first month of eating local?