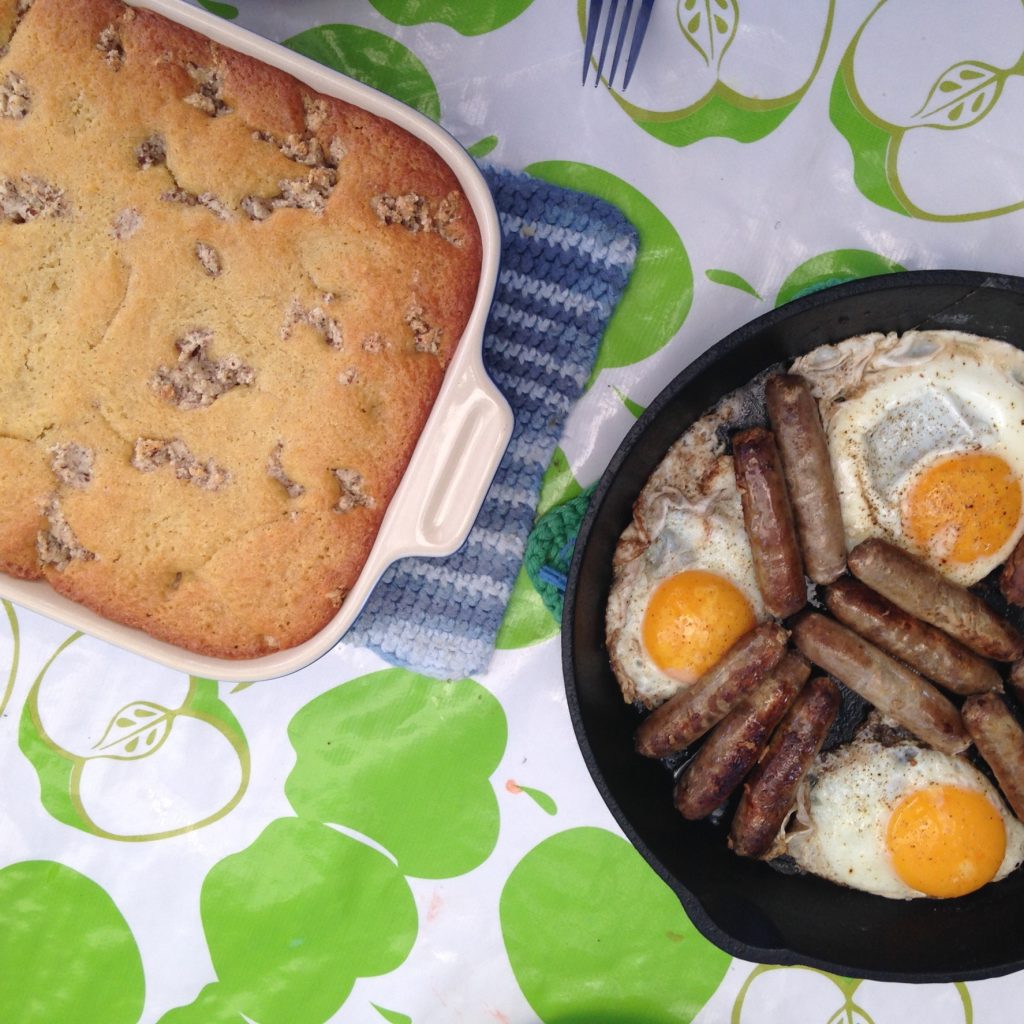 For Father's Day this year, Xerxes requested the day to begin with coffee cake. When he made this request, the kids started dancing around cracking up. Cake for breakfast Papa!? Followed by… I don't drink coffee! I don't want coffee in my cake!! 
The explanation of "It is just a breakfast dish that you eat at the same time you drink coffee" did not seem to satisfy their hilarious inquiry, but once the cake was in front of them, they were gleefully satisfied that it did not contain coffee and was just sweet enough to feel a bit like dessert.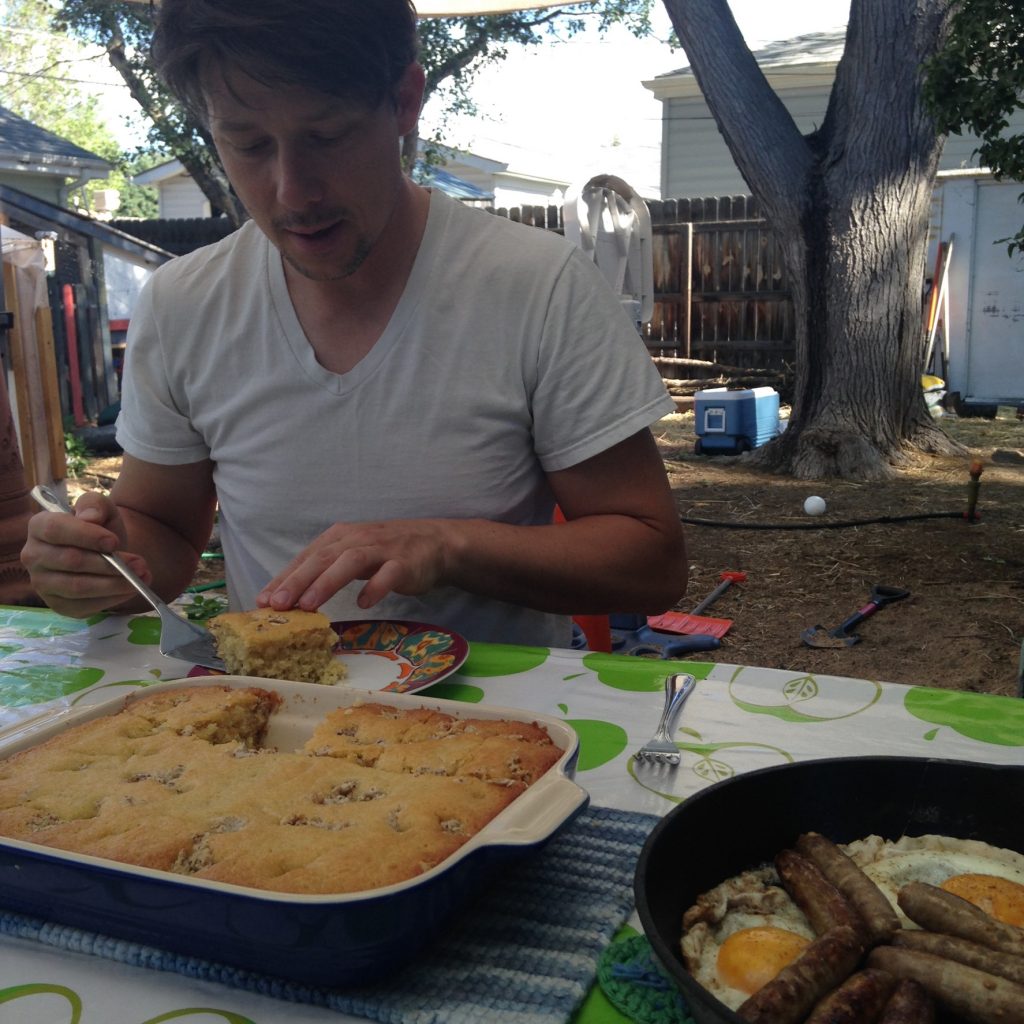 Since fruit is not exactly easy to find at this point in our local food year, I chopped up a good pile of rhubarb from our yard and let it soak in a little honey bath over night. The next goal was to find a recipe that uses honey rather than sugar as the sweetener. A recipe from the Honey Board did the trick. We also wanted a simple ode to the crumble you see on top of NY Crumb Cakes and that seem to be the final flourish.
Quick tip: As we have baked with honey much more in the last few weeks, one thing I keep trying to remember is to have the oven temperature a bit lower as the color can get dark faster.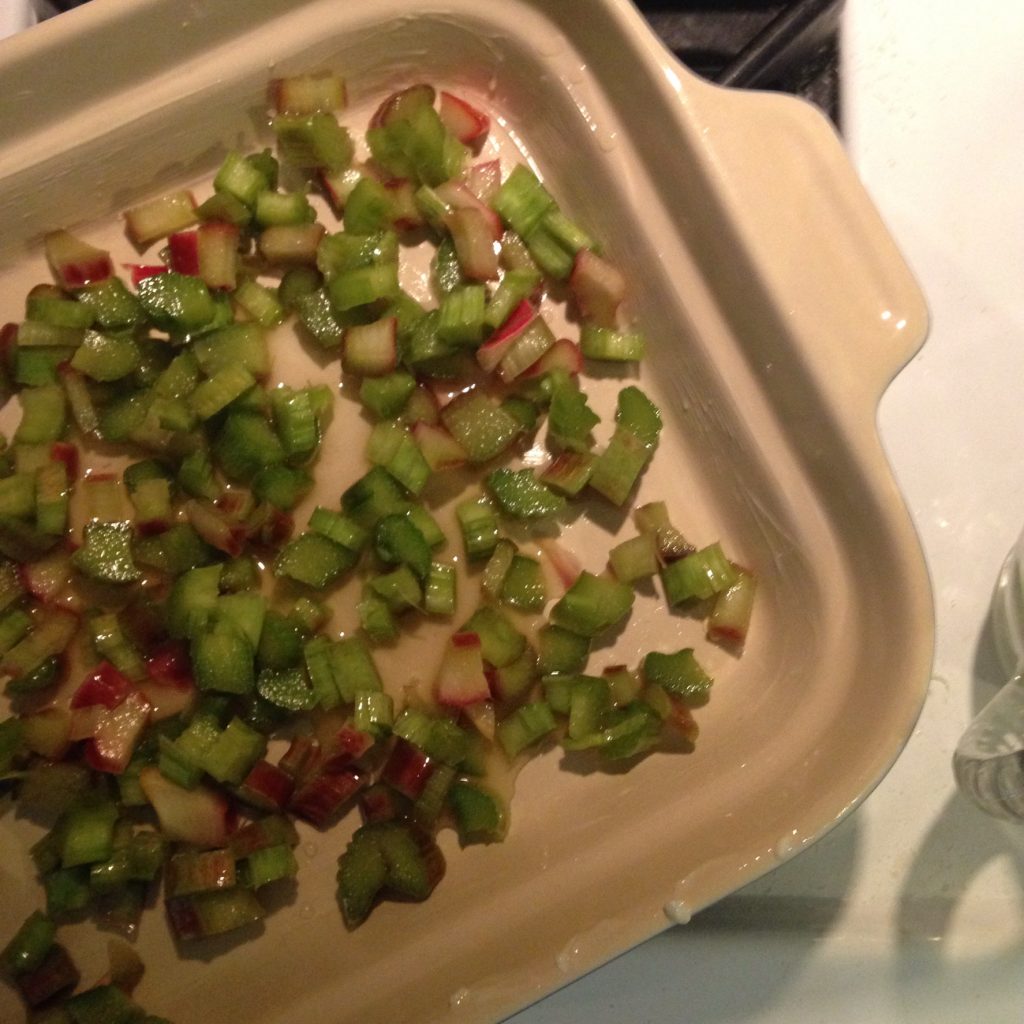 Honey Rhubarb Coffee Cake

Inspired by the Honey Board's Blueberry Coffee Cake
3 cups minced rhubarb
1 cup honey, divided
1 1/2 cups flour (all-purpose gluten-free blend could work, too!)
2 teaspoons baking powder
1/2 teaspoon baking soda
1/2 teaspoon salt
6 tablespoons butter
1/4 cup milk
2 eggs
1 tablespoon apple cider vinegar
1 teaspoon vanilla or almond
For the crumble:
2 tablespoons honey
2 tablespoons butter, very soft
1/4 cup minced almonds
1/4 cup flour
pinch of nutmeg and cinnamon
The night before or about an hour prior, toss together the rhubarb and honey. Place in the fridge to soften and sweeten up.
Whisk together the dry ingredients: flour, baking powder, baking soda and salt.
Turn on the oven to 350.
Melt the butter. Stir in the honey and milk. Making sure this mixture is not too hot, whisk in the eggs, apple cider vinegar and vanilla. If the honey-butter is hot, place in the fridge until it is closer to room temperature.
Meanwhile, make the crumbs by mixing together the softened butter, honey, nuts, flour and spices. The goal is to be able to clump it together, if it is too moist, add more flour, if it is too dry and not coming together add a drizzle more melted butter. Set aside.
Butter the dish for the coffee cake up on the sides until it is evenly coated. Sprinkle with flour and shake around until it is thinly distributed and dump the remaining flour.
Fold together the dry flour ingredients with the honey-butter-egg ingredients and the honey soaked rhubarb. Pour into the coffee cake pan. Spread it out with a spatula until it is evenly distributed. Sprinkle the crumb mixture on top in clumps.
Bake in the oven for about 20-30 minutes until a toothpick inserted in the center comes out clean. Eat hot, cool or room temperature. It lasts a few days as well.